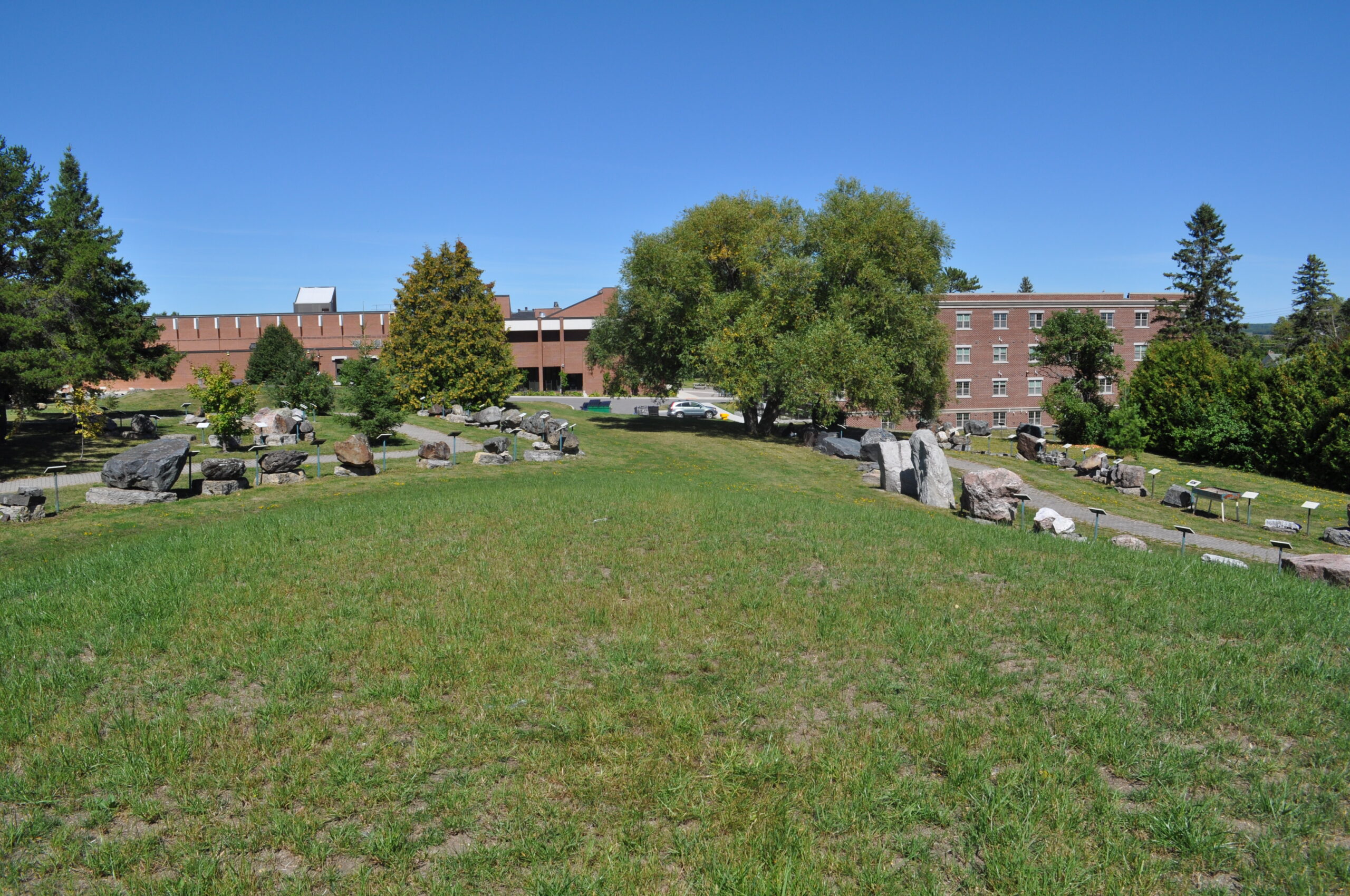 Located on the grounds of Northern College in Temiskaming Shores (the former Haileybury School of Mines). Almost 200 geological exhibits of massive size await your inspection. Designed as a Millennium project for the community, the display samples (up to 45 Tonnes, but averaging about 3 to 5 Tonnes in weight) represent geology from across Canada, from Labrador to B.C., and north to Baffin Island. The site is free for visitors, and has display panels at many exhibits. Open all year.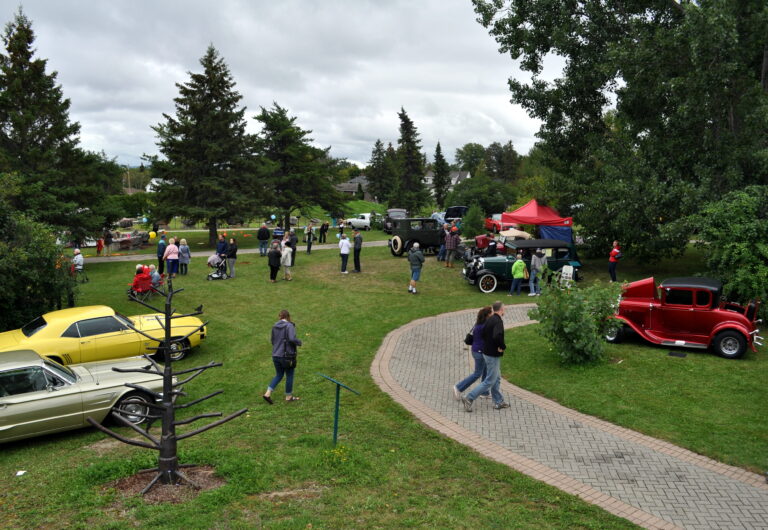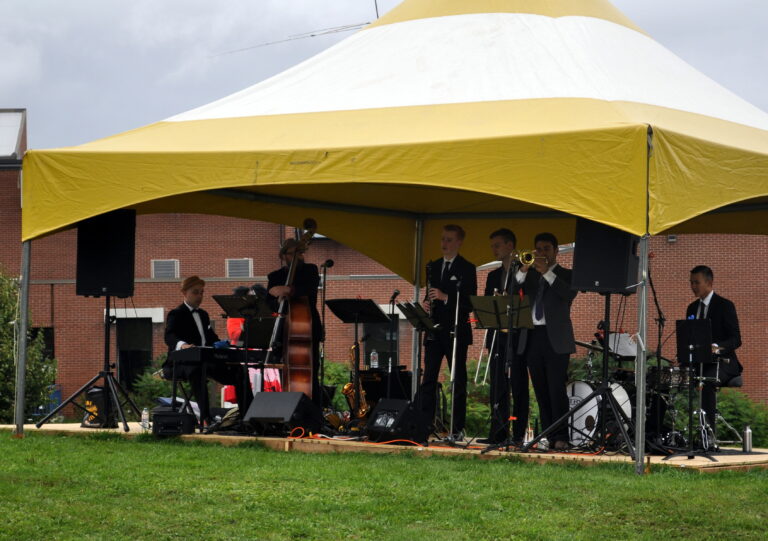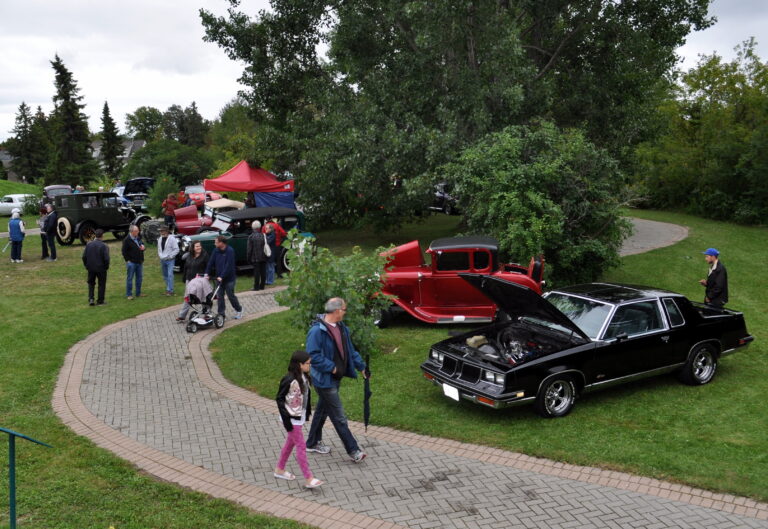 Looking for an outdoor space for your next event? The park was designed with events in mind. The pathways are extra wide to accommodate vehicles, and there is even a place for a live band. If you are interested in hosting your next event at the park send us a message! 
We have split the park up into themed tours as a way to better organize the displays, and to tell a better story.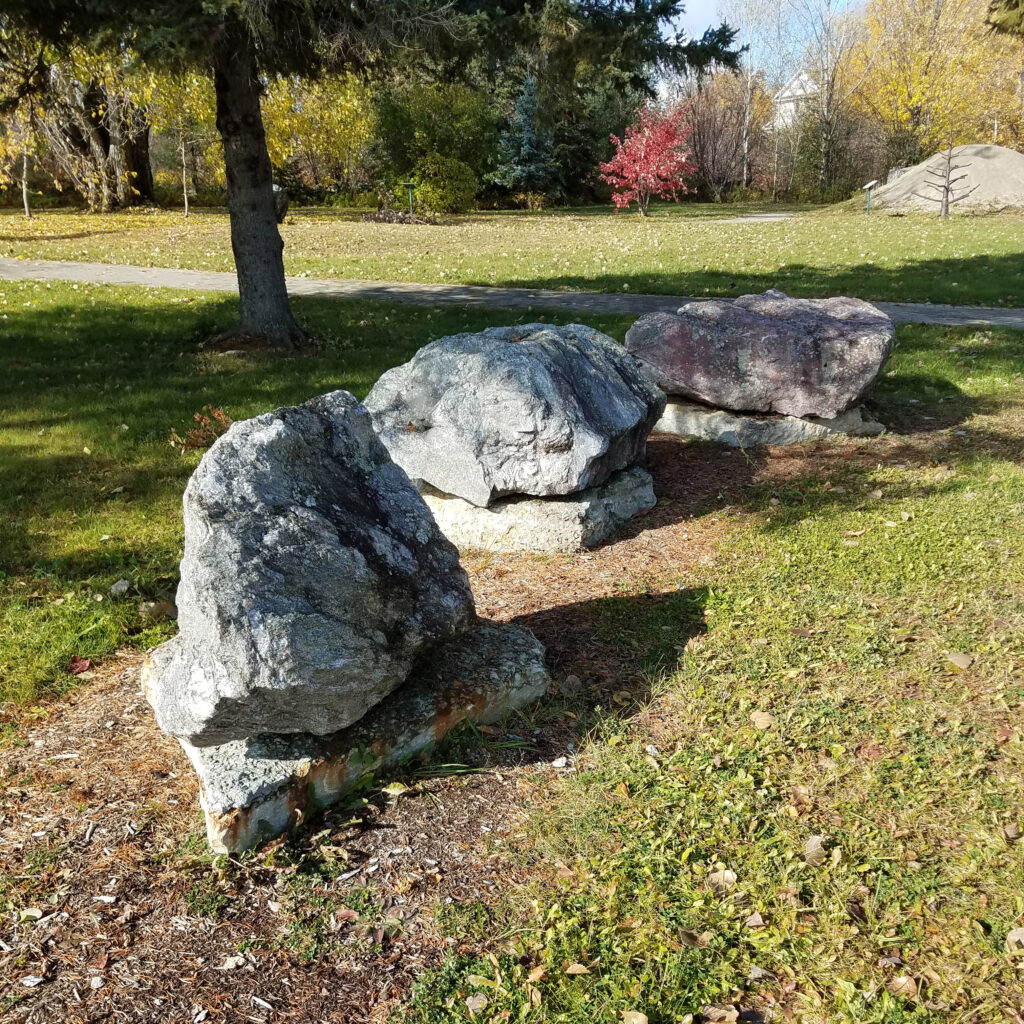 Our gem garden, featuring our Platinum Group Metals monument dedicated to the Platinum Jubilee of Queen Elizabeth II.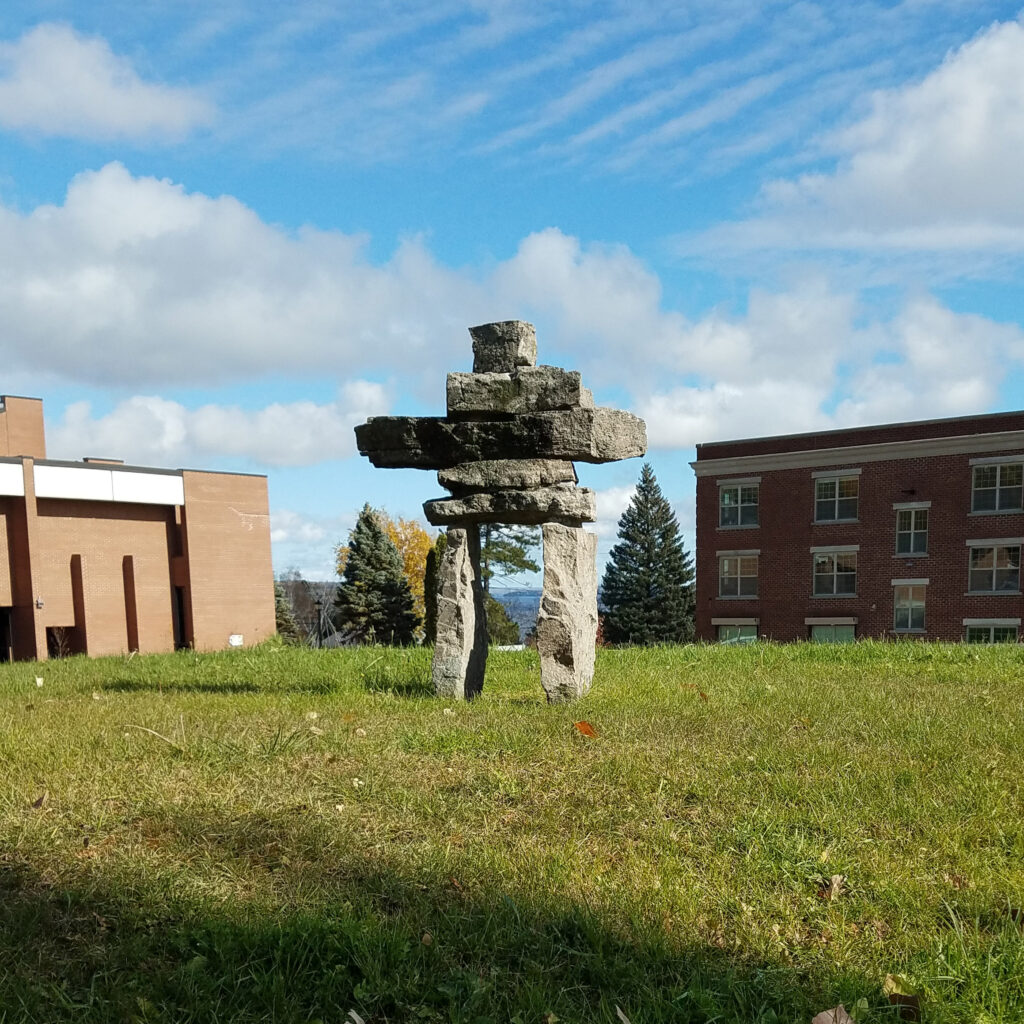 An Inukshuk, a Perched Erratic, and Coober's Pedy reproduction is a tour you don't want to miss!
Welcome! We hope that you will enjoy your tour of the park, and we offer this Guide as a way of understanding the geological and cultural importance of our displays.
The park originated as an idea of Paul Bateman, a geology instructor at the Haileybury School of Mines, back in 1991, but it wasn't until 1997 that a committee from the surrounding community was formed to put the idea into practice.
Mary-Jo Gordon, a graduate Landscape Architecture student at the University of Guelph, offered to design the Park as part of her "community outreach" requirement to be fulfilled prior to her graduation. The Canadian mining and geology community is forever indebted to her. (Internet Abstract: Designing for spirituality in the landscape: an exploration – 1999 – The Atrium, University of Guelph)
RockWalk Park was opened in July of 2001, with the help of the following:
The mining industry donated large ore samples from across Canada
Northern College agreed to lease the land to the charitable corporation
The Town of Haileybury provided a great deal of labour and machinery
The Millennium Corporation of Canada provided much of the seed money
Numerous private donors, as listed on the donor wall, provided the enthusiasm and some start-up funds, as well as continued financial support
As of 2021, we are in the process of adding French translation, signage, and QR codes to enhance the digital experience of both students and the general public. The QR codes will direct viewers to additional digital sources of information. Geologic data that has been upgraded by the Ontario government over the last two decades has been added to the Guide. RockWalk Park is a core feature of the Temiskaming Rift Valley (Aspiring) Geopark, of which RockWalk Park Inc. is the leading proponent.
Please be aware that the park is not complete, and perhaps never will be! This park, with these types of exhibits, will continue to evolve as new rock samples become available. Yearly, we plan to unveil new exhibits designed to educate and entertain. Indeed, there are still some exhibits under construction, and they will be completed as resources allow.
The purpose of the park is to provide an outdoor instructional setting where one can relax, meditate, learn, discover, and have fun.
The three main themes are:
"The Story of Our Planet", meaning the rocks and minerals, how they are formed, how they differ, and their geological history or story.
"The Story of Our People", at least in terms of rocks, refers to how rocks have influenced various cultures through the ages.
Arboretum of trees native to Temiskaming and those acclimatized to our "3b Plant Hardiness Zone".
If you are interested in learning more about these topics, and you don't have the benefit of a human guide to consult, please log on to our website: www.temiskamingriftvalley.ca
Note that a satellite view of RockWalk Park can be seen when you Google Haileybury, Ontario and expand the view of host Northern College Haileybury Campus.
Abbreviations:
The Google view gives a rough outline of the park walkways. This particular tour is designed to start near the beginning of the 'Yellow Brick Road', at the corner of Latchford and Probyn Streets in Haileybury, City of Temiskaming Shores. As a starting point, it might help to know how the signage labelling system works:
The prefix, MO, on a sample number means it's a Metallic Ore.
Similarly, NMO, means Non-Metallic Ore.
LRT means Local Rock Type.
UNGS means UNusual Geological Structure.
PGS means Prospecting Guides & Stains.
CUL means CULtural examples.
GV means Gem, semi-precious, decorative, & fluorescent Varieties.
FF means Fossil Fuels.
FOS means FOSsil.
BR means samples that illustrate Bowen's Reaction series.